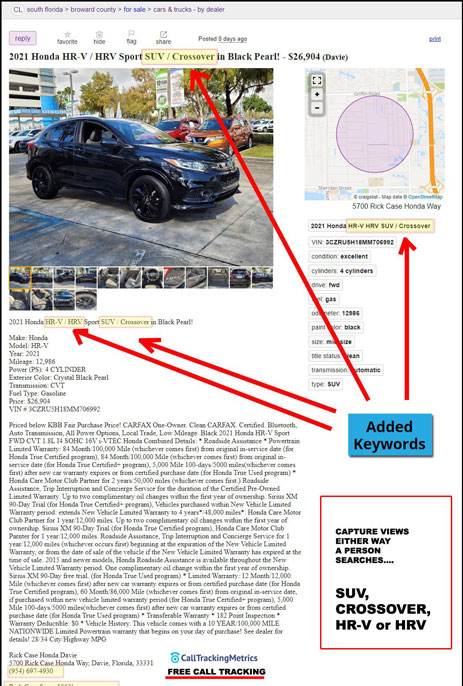 Authorized Craigslist® Autos Posting Service only for Auto Dealer Paid Ads
For nearly two decades, SEARCHEN® has been providing expert Internet marketing services and web related solutions to clients throughout the United States. Our team has developed an API tool and assists auto dealer clients with posting their vehicle ads on Craigslist.
Bulk Posting Interface
For Sale By Dealer Paid Ads
Includes Auto Buyers Market™
Our services utilize the Craigslist® bulk posting interface for submission of multiple automotive listing ads for high volume dealers and those wishing to automate the process. All listings are paid for dealer listings.
For more information and to post or check out our latest reviews visit our Yellow Pages business page
Craigslist® has not endorsed this site and it is not affiliated with Craigslist Inc. - Craigslist® and its logos are registered trademarks.
Craigslist® Bulk Posting for Autos
Authorized Craigslist® posting service for optimized dealer listings. We also include free syndication of dealer inventory, call tracking, paid search ads (Google and Microsoft Certified Partners) and free inclusion on our own shopping portal, Auto Buyers Market.
The Bulk Posting API provides an interface for the submission of multiple posts at once.
Craigslist is one of the most effective lead generating platforms for vehicles that are under $20K.
Sign up and we'll automatically import all your cars on Auto Buyers Market, our own shopping site.
Call Today
Authorized company which provides services utilizes Craigslist® bulk posting API for paid-for submission of automotive listing ads for high volume dealers.
Frequently Asked Questions
Here are some frequently asked questions we receive from customers.
Are all the ads paid for?

Yes, we pay for each ad we post on CL. Our software pays the fee, optimizes the postings making them easier to find, and makes it much easier to fill out and complete in bulk. We can post hundreds of paid ads in the time it takes for someone else to post them manually one by one.

What does it mean that the ads are optimized?

Our software will see what make and model is being posted and will include information about that vehicle as well as include information about very similar vehicles so that our listings contain more relevant keywords than ordinary ads while not looking like spam or violating Craigslist terms of service. Then, afterwards, our team will go over the ads and ensure we did not miss any relevant info such as a sunroof, convertible, after-market rims and/or third row seats.

How much does the service cost?

We charge just $10 per post which includes the posting service itself and the $5 Craigslist fee. This also includes a tracking phone number and listings on other shopping websites such as Auto Buyers Market. This makes the cost very affordable and hard to beat. For a 50 car lot, the service is $500 and is all-inclusive meaning it is a totally hands-off service and dealers do not need to do anything.